About Us

St. Robert's H.s School is affiliated to the West Bengal Board of Secondary Education and the council of Higher Secondary Education. It is situated in the Darjeeling town. It is a Christian school established and administered by the Roman Catholic Dicose of Darjeeling. The school is under the religious jurisdiction of the Roman catholic Bishop of Darjeeling. The School aims at the education of the Catholic community around and extends its service to members of other communities to the extent posibble. The school stands fot the academic excellence, development of skills and character formation based on the love of God and the service of all modelled in Jesus christ, with a view to training citizens remarkable for all-round development and sincvere commitment to God and country. Catholic education is inspires by a vision of the world drawn from the life and teaching of Jesus Christ who has always been respected and admired by the people of India. The vision and principles give Catholic institution aspecific character and set before their staff and students high ideals of humanism and service towards which they are invited continually to strive.
History of St. Robert's
St. Robert's School opened in February 1934 in Halcyon House, Darjeeling. It was the successor of St. Francis Xavier's Middle English School, started by Rev. Fr. Charles Grant in 1914, on the grounds of Archbishop's House. On July 17th 1934, St. Robert's was transferred to the Park Hotel. It was recognized as a high school in 1935 by Calcutta University. The School was upgraded to Higher Secondary status with effect from 1.1.63 and phasing out of the primary section began to allow for increased enrollment. This Programme was completed in 1965.
From 1.1.74 St. Robert's began preparing its class nine students for the Madhyamik Pariksha of 1976. It was again upgraded to the Higher Secondary status in 1993.
Our Patron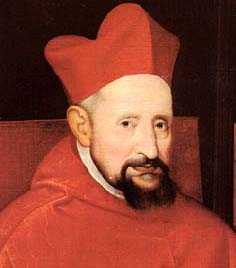 The Patron of the school is St. Robert Bellarmine, the famous sixteenth century saint and scholar. The motto of school is the motto ST. Robert gave to his most famous spiritual son, St. Aloysius Gongaza, patron Saint of Youth – "Ad Maiora Natus Sum" – I was born for higher things." Embodied in this motto is the aim of St. Robert's School to give each of its students the conviction that his life on earth has a purpose far beyond the present world. Sons of the Almighty Father of all, students must always aim higher, think bigger, be content only with what is nobler. Their aim is to make themselves worthy sons of such a Father. Achievement must keep pace with their aim.